Thank You Greenwich Rotary Club!
Published: 30 Jun 2016
|
Greenwich
A massive thank you to the Greenwich Rotary Club who generously presented us with an amazing £750 cheque. We are delighted that Greenwich Rotary has continued to support us following Anna Khan's talk in February.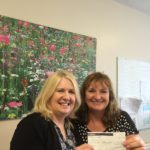 Share this page via...